Waterproofing a Flat Roof Construction Using a Liquid-Applied Roofing System
This problematic non-insulated roof of the 1930s will receive permeable waterproofing while retaining its bitumen membrane.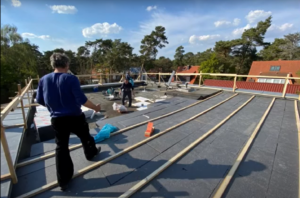 On the first day, the old bituminous membrane is perforated and thermal insulation is laid and anchored in the base against wind suction with roof battens.
On day 2, roofboarding is nailed to the underconstruction of the roof.
That same day, the primer for later waterproofing is applied.
The application of the primer is finished in the afternoon.
On the third day, the liquid waterproofing membrane is applied using the "wet-on-wet" technique with reinforcing fabric.  While still being waterproofed, areas that had been treated 30mins earlier have already set. Such short setting times can be of great benefit, and prove helpful in conditions with fluctuating weather or a tight schedule.
In the early afternoon, the final sealant can already be applied, resulting in reliable, as well as DIN and ETAG compliant roof waterproofing. Additionally, this waterproofing has no seams, no risk of water ingress, and a high vapor diffusivity (sd-value of 11). Furthermore, it is repair-friendly due to the material having a high chemical bonding ability even many years down the line.
In the early afternoon of the third day, the roof has been fully waterproofed.