On the single access ramp of the underground parking garage, most of the epoxy coating had come off. With no alternative parking available in the area, the owner of the upscale condo had difficulty scheduling the needed garage repairs without inconveniencing the tenants.
The renovation schedule, which was coordinated with the building administration, would require cordoning off access to the garage for only about 4 – 6 hours during a low traffic period.  In the week before the coating work, the old coating was removed. This was possible while maintaining business operations.
13:00 o'clock At the beginning of the renovation, the surface was again shot peened to the ground in order to remove possible contamination and to ensure the adhesion of the primer. After a thorough suctioning, the primer was applied with fast-reacting PMMA. Larger bumps were compensated with PMMA-bound special mortar.
14:00 The coating is applied in about 2.5mm thickness and sprinkled with sharp-edged granite chippings to get the necessary grip on a ramp.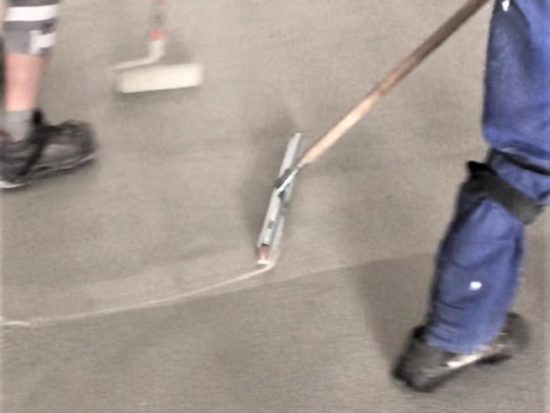 15:00: The coating is sealed twice in the desired color of the client
16:00: The coating is fully cured allowing the garage to again be opened while work continues to be done in the peripheral areas, but without delays.