Reconstruction of a defective Bitumen Screed
In the logistical and industrial sector, it is usually not possible to interrupt operations to repair defective floors. The setting and drying times of conventional screed and floor systems are insufficient here. If only a few hours are available for renovation, our special acrylate systems are used, with which floors can be fully used within a few minutes. In the example shown, an industrial floor area of ​​approx. 100 square meters is reconstructed in just a few hours.
Demolition and preparation
On the first night, the old topping is removed and the concrete base is prepared through milling and lagging.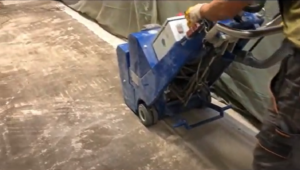 Larger imperfections and bumps are evened out, so the warehouse operation can continue regularly the following day.
On the second night, the new floor is reconstructed using primer, screed, coating, and sealer.
1. Primer
5:00 PM: Primer work begins.
5:20 PM: The primer has been fully applied and has set after 20 minutes.
2. Screed Installation
At 6:00 PM the application of the screed begins.
At 7:00 PM half of the screed is in place, which is already walkable at the back.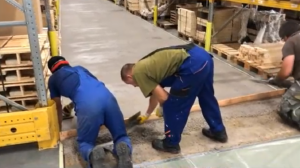 At 8:00 PM the screed application is nearly complete.
3. Coating
8:45 PM: After a short break, the coating work starts.

At 9:05 PM The coating is complete.
4. Sealant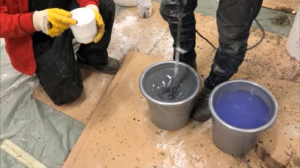 At 9:30 PM The sealing work begins.
9:45 PM: While the front is still being sealed, the back of the floor has already hardened.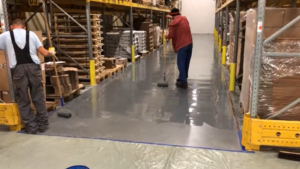 10:00 PM: All work has been completed and the surface can be used again immediately.
The following day the floor is already in use again.